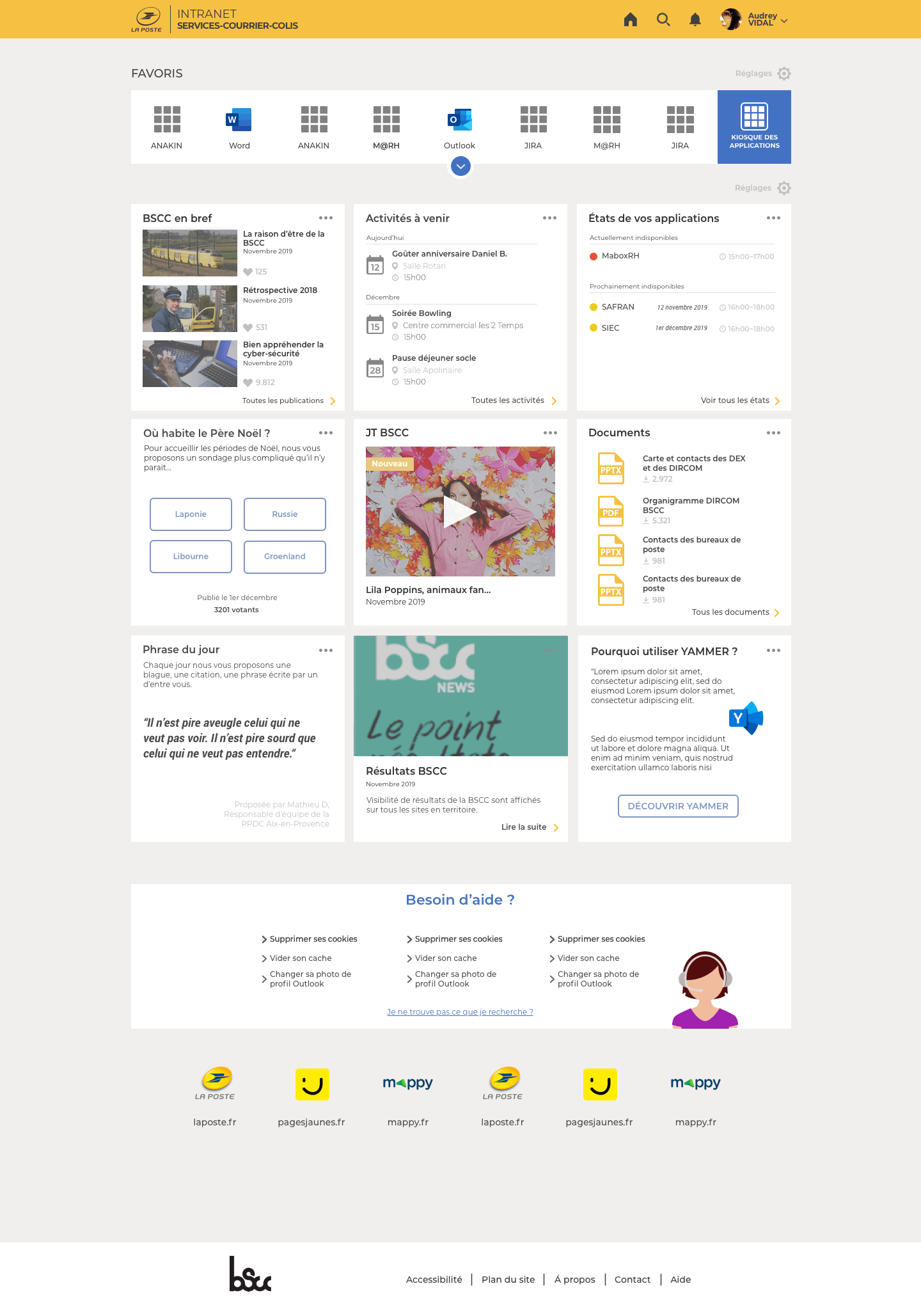 Redesigning the intranet of a big company
---
Overview
The french post employes all use an internal website. This website has been made to facilite the access to the company tools, such as applications, document browser, company's news and help center.
Problems
Thanks to the first feedbacks I got from the project owner, users only use this platform for the applications list. None of the other features are used. And most of the time, users don't know it exist.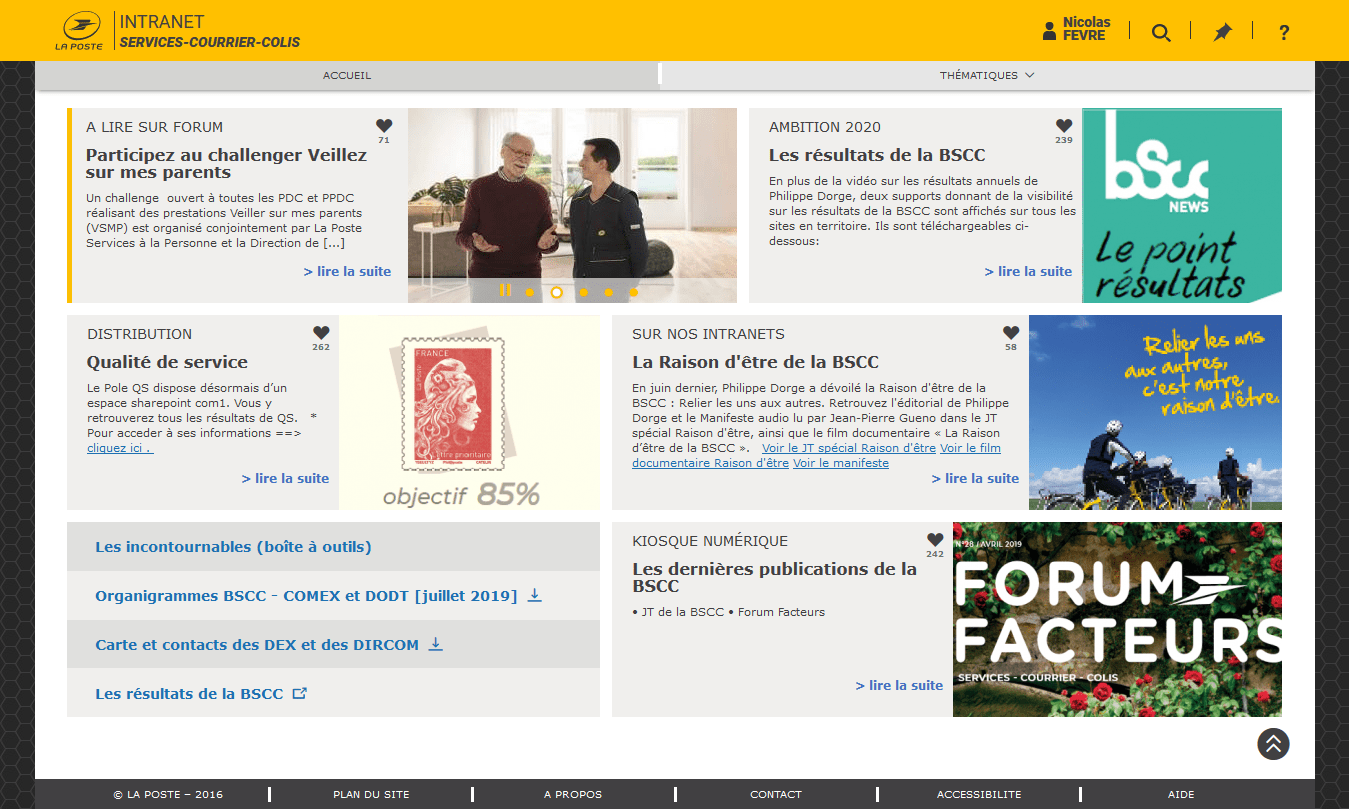 Audit
First of all, it was important to understand the platform weakness from 2 sides : - pure ergonomic way, using design guidelines - user centered, interviewing final users about
Design guidelines
First of all, in a pure ergonomic side, I choose to make an audit of the platform. Thanks to the "Bastien & Scapin" ergonomics guidelines, I made a list of each points which didn't respect these guidelines.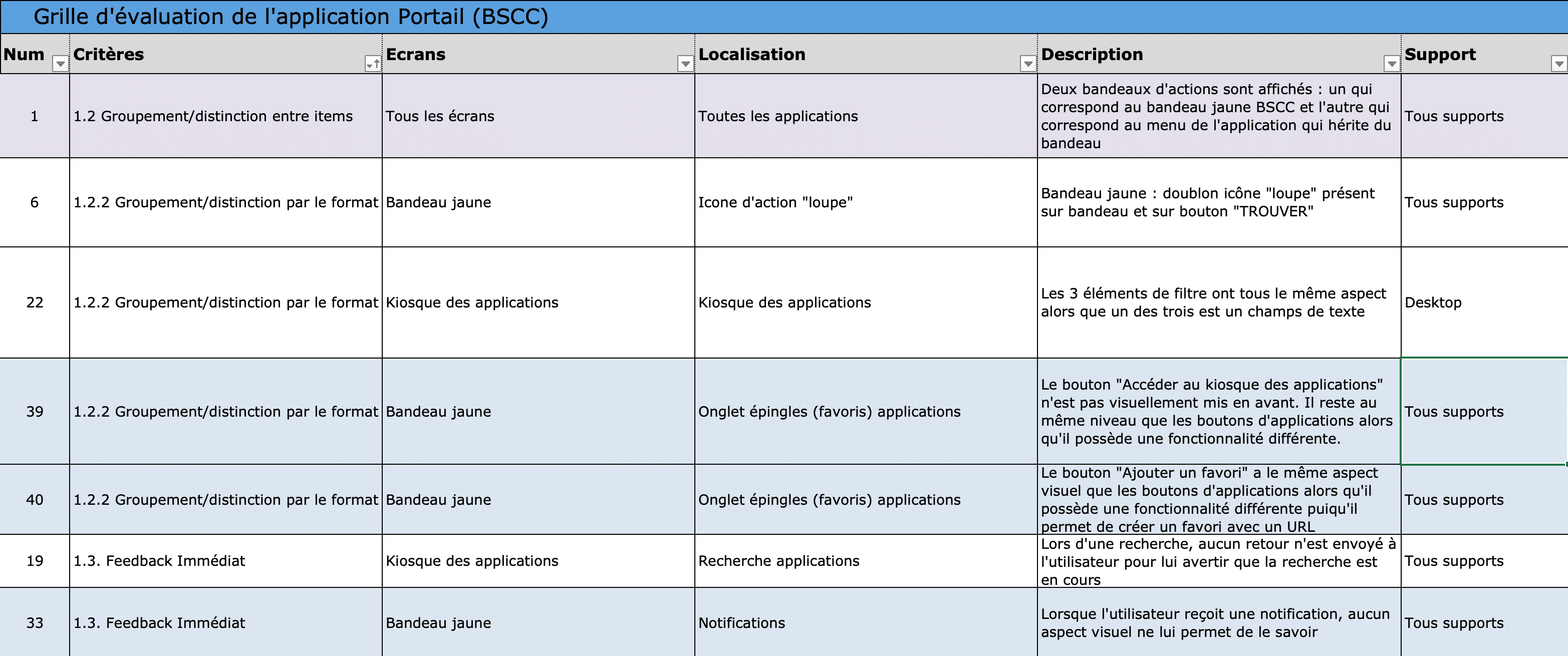 This first part of the audit, helped me to know the design issues. In order to have a full design view of the platform, we needed to inteview the users.
Talking to users
I had the chance to visit 3 mail sort center in Paris. There, I interview 15 everyday's platform users. These are the feedback I got from these visits:
90% close the tab directly after the openning
95% use the platform only as a platforms list
People do not use the platform as it has been made for. When we ask "Why do you close the platform's tab?" or "Why don't you use this feature?", here are the most comon answers :
"The news are updated just a few times in a year"
"We don't care about these news, they are useless for my everyday's tasks"
"I don't have time to read and look a document, I am too busy!"
Because the users' were interesting and usefull, I used its as a starting point for the exploration step.
Exploration
In order to start the redesign process I used the data set and tried to go deeper in it.
User journey
Here, I made a user journey map from a typical action users do everyday : search for an app. This map, focused on 1 issue: the applications index. How you can see on this map, this issue is critical for most of the users.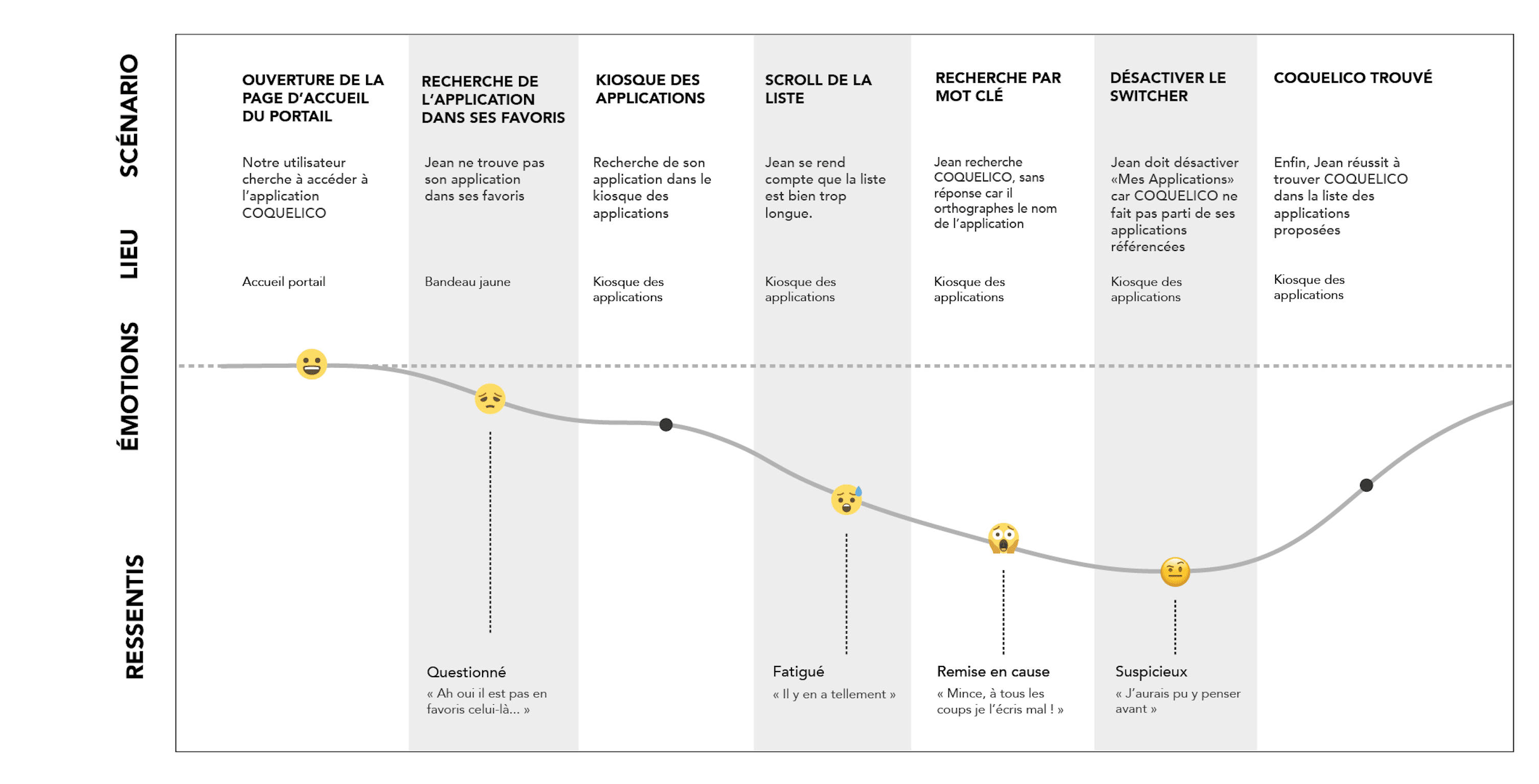 Personas
Because we design for people, it is important to have an image which represent the users types in order to remember in each steps of ideation their needs and fears. From the data I collected during the exploration step (interviews & exploration), I gathered types of users depends on these variables:
Familiar with computers
Mobility at work
Numbers of favorites applications
2 personas stand out from the user research: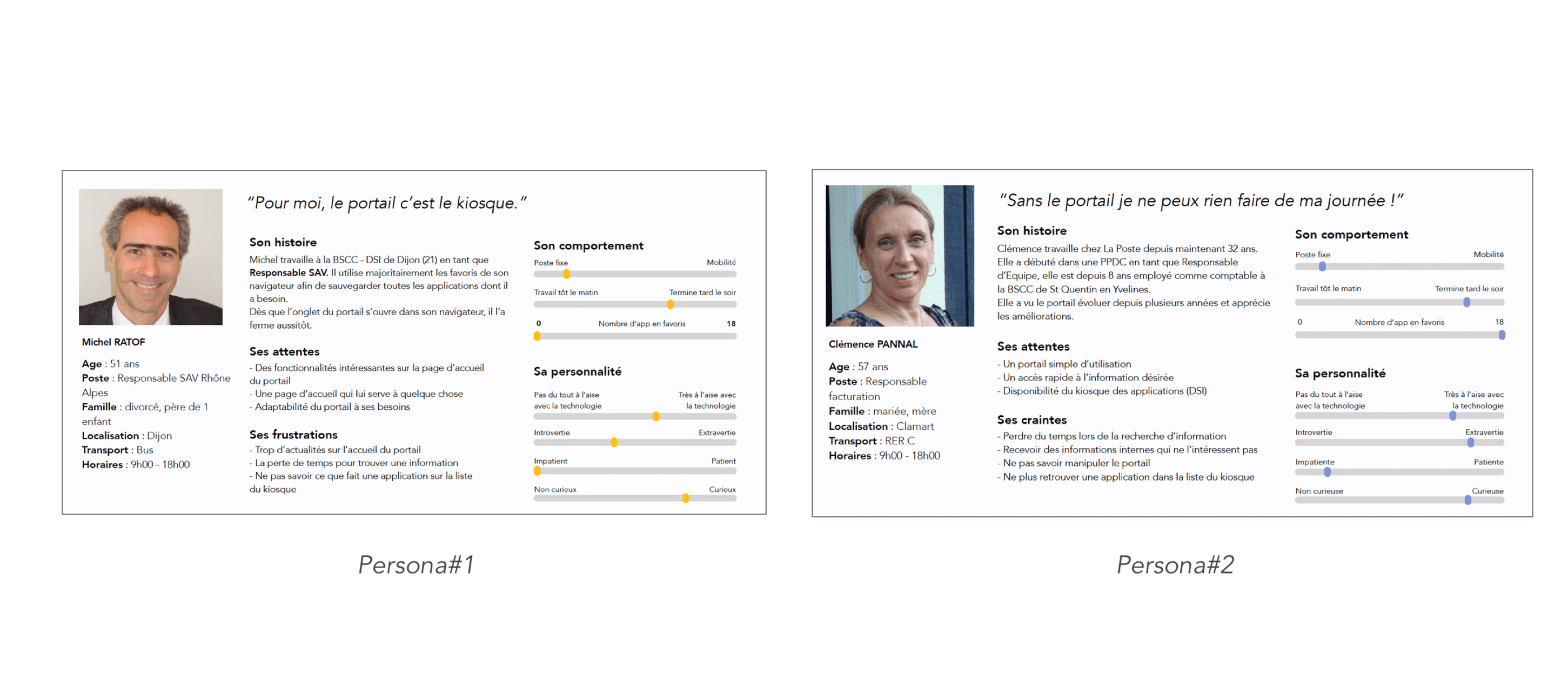 Persona#1 works most of the time from his desktop, he prefers to use the intranet on a big screen. Furthemore, he is not familiar with new technology. Persona#2 likes working with a smartphone. She is familiar with computers, and love to personnalise her favorites shortcuts.
Designing process
Design workshop
When you work as an UX Designer in a big and old company. People are always interested by your job. What do you do? What is it for? Is it graphic design? I invited 5 users, from the users' group I interviewed, to participate to a design workshop: It may break there daily routine. I tried to pick up users who matched with these 2 personas, and from different departments (sales and logistics). During 2h, they collaborated as a team, and the result was amazing.
The goal of the workshop was to generate ideas' features for the platform's homepage. INPUT : persona, user's interviews OUPUT : new features of the features prioritized
Workshop process
I needed to create and organize a workshop which facilitate the generation of new ideas. (timeline du workshop) Icebreakers are very important in a design workshop. However, it was important to carefully choose icebrakers which really help the participants to generate ideas and get them more confidence in the "design process". During the main part of the workshop, we used the "The Lotus Flower" for generating new ideas. The advantage of this tool, is too let people generate a lot of ideas from a simple sentence. In order to widen the field of possibilities, it's better to start with an unclear sentence, I choose "Have a nice day at work". From this sentence, participants needed to think about the conditions for having a good day at work, let's call these conditions the themes. Some of these themes were: "Finish all my tasks", "Enjoy good time with collegues", or "Don't have trouble in public transport". Then, they voted for the most relevant answers. Then, I asked them to imagine features which can help them to succed these themes. Let's take the theme "Finish all my tasks", these are the features for home page of the intranet they got:
Show the department sales of the month
Create a map of france, where users can check if offices are on strikes
Be advised about HR movement
In total, participants have created 9 new features. Because of the lack of time from the client, we couldn't organize an other workshop for making prototypes of these new features.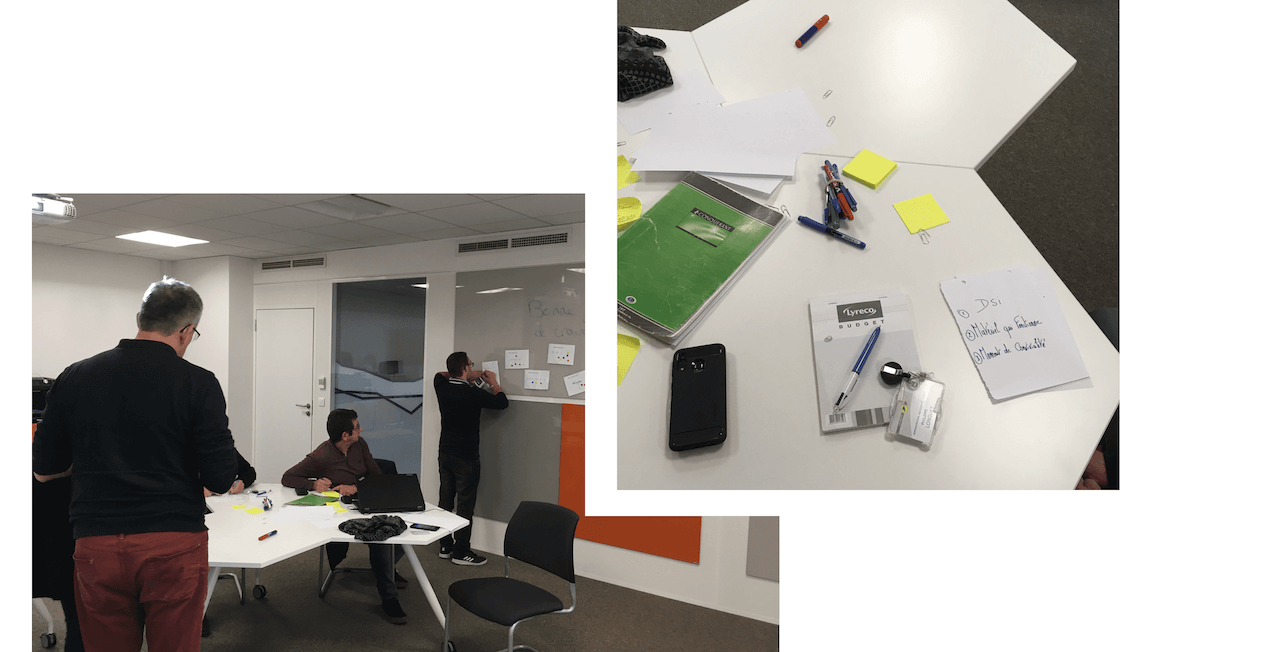 Prototyping
New features
For this project, I made short time iteration. So, after each new big step on Sketch, we tested the result. First of all, I made hand sketch of the features made at previous step by the participants of the workshop. The research show us that final users don't have time, they are really busy at work, and they need to manage many things during their workday. That is why, I tried to sketch prototypes which looks like small cards you can find on a control panel or a dashboard. These cards follow the "Straight to the point" rule and only show the relevant information.
Information architecture
With all these new features, I needed to reorganisation the homepage and how information goes to the users. The challenge was to create a homepage that users want to read, to use, but where the mental load is not high to don't lose users not familiar with technology (persona#1).
User tests
In order to proceed these short iterations, we made distance user tests. Using User Zoom solution from User Zoom company, we proceeded distance users tests to almost 50 users. Let's talk about one user test we made for the new application index. I created 2 views for this page. I wanted to know which one was the easiest to navigate with, and which one display the information in the best way.
My hypothesis
Many information are needed on each application cards, such as name, description, working state, browsers compatibility... User has to quickly move her/his look on all the cards and find the one he/she is looking for. It is not convenient and make the mental workload get high.
The result
To our surprise, this had the opposite effect! Finally, users were more confortable using solution B. A 2nd aspect of the project has been critisez by users : the scrolling distance. With a same scroll distance, you can observe more applications with solution B than solution A. The mental workload level is higher, but the scrolling time is longer.